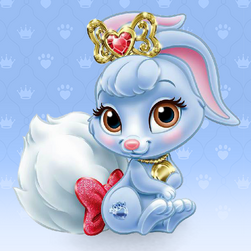 Berry is a pale azure bunny who belongs to Snow White. She is voiced by Emma Salzman and Grace Kaufman.
Appearance
She has brown eyes, a pink nose, a big, white tail and wears princess accessories like her bow-shaped tiara.
Description
During a stroll in the forest, Snow White found her hiding beneath a blueberry bush and immediately discovered her fondness for food.
Personality
Berry's personality is shy.