Lotheas
are cute, mouse-like water Terra Monsters.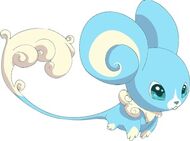 Description
Adorable Lothea love to splash and play on the beach all year long. (Water)
Evolution
Lotheas can evolve into a Hythea at Level 36.
Terra Ranchers with this creature
Favorite Food
Their favorite food is sea cucumbers, but Pearl and Sea Cookie are the only Lotheas who eat sweets such as cupcakes and cookies.