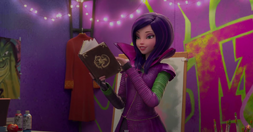 Mal is the leader of the Descendants. Mal takes charge of carrying out her mother's evil plan to steal the Fairy Godmother's magic wand and enjoys drawing and casting spells (but only if needed).
Personality
Mal is a sneaky, smart, and (sometimes) ruthless girl who is a natural leader. Though she is compassionate to a degree she is also vengeful and doesn't forgive others easily. She is artistic and has a knack for casting spells, but only if needed. As the daughter of Maleficent, she wants to be like her mother: pure evil. Yet whenever she tries to prove herself to her mother, she often disappoints her instead. But she does enjoy coming up with evil plans and is the most feared at her previous school because of her reputation. She isn't fond of beautiful surroundings or anything pink and finds them to be horrid, but she does sometimes wonder about how life would be off the island. Despite this, she is not necessarily immoral; she is just misguided. Her "mean girl" facade is an act because she does not want to be seen as weak in her mother's eyes; being one is the only way she is respected by Maleficent, who never cared about Mal. Ben is the only person who saw through Mal's act, and saw her for who she was, a good person.
Physical Appearance
Mal is described as a girl with dark purple hair with highlights of lighter shades of purple that is curly and reaches a little bit over her shoulders. She has green eyes and is of medium height. She mostly wears purple and shades of green during the movie. At Ben's coronation, she wears a lavender dress that is short on the front but long and regal looking on the back. Mal had her hair tied up in a top knot. According to Descendants: Isle of the Lost, she has a dragon-shaped marking on her arm, the symbol of Maleficent.
Powers & Abilities
Mal is trained in dark forms of magic, courtesy of her mother. By Descendants: Wicked World however, she became somewhat incompetent with her magic despite being skilled in the film.