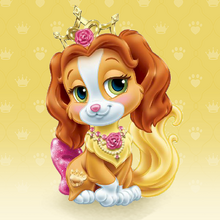 Teacup is a gold King Charles Spaniel that belongs to Belle. She is voiced by Hadley Belle Miller.
Appearance
Teacup has hazel eyes, a pink nose and white muzzle and paws. Just like some of the other pets, Teacup somewhat looks like Belle, but has auburn hair similar to Prince Adam's.
Description
Belle and Teacup met one day in the village square; Teacup was entertaining a crowd by balancing apples on her head! Teacup loves shopping for accessories and she always chooses the perfect pieces for the occasion.